*** NOTE: I am redesigning my site, so things are going to be wonky here for a bit. Apologies! ***
Hello, and welcome to Studio NDR and the slice of the internet devoted to the artistic endeavors of Dylan "NDR" Edwards. I make comics, 2D art, and sculpture. This site is mostly about the comics, and a bit of the art. For the sculpture and yet more art, please visit Feeping Creatures.
Support queer & trans indie comics creators (like me!) – buy some queer comics!
Want comics that queer the heck outta sports? Congrats! This is the book for you.
In addition to baseball, football, basketball, and hockey, The Outfield also takes a swing at golf, cricket, tennis, rugby, archery, the Olympics, soccer, and a host of other wholesome athletic endeavors.
The Outfield collects the entire run of Dylan Edwards' sports comic from Outsports.com, and features a bonus section of even more queer sports cartoons. The Outfield was published monthly at Outsports.com from 2002-2009.
Buy PRINT BOOK on Amazon

Buy HIGH RES PDF on Gumroad

Free LOW RES (web quality) PDF

Valley of the Silk Sky: The Long Run Part One (includes chapters 1-5) is now available as a print book or hi-res PDF for your offline reading needs:

Valley of the Silk Sky PRINT BOOK

Buy Valley of the Silk Sky PDF
Valley of the Silk Sky Part One is now available on ComiXology!
Valley of the Silk Sky is a queer nonbinary YA science fiction webcomic that updates on Wednesdays.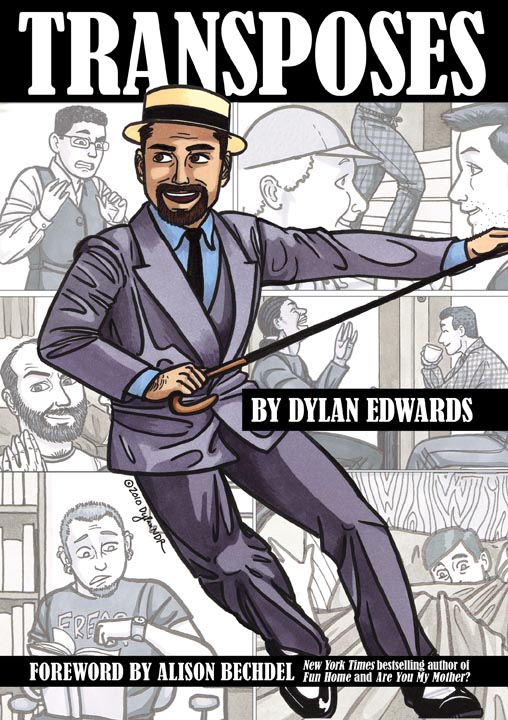 Transposes separates gender from sexuality and illustrates six fascinating true stories of queer transmasculine people. With comics constructed from interviews with a variety of AFAB trans people, the result is laugh-out-loud funny, heartbreaking, challenging, inventive, and informative.
Includes a foreword by New York Times bestselling author Alison Bechdel (Fun Home, Are You My Mother?).
See what critics and readers are saying about Transposes
Politically InQueerect: Old Ghosts is now available for sale!
In this all-new, full-color tale, Todd joins Archer and his mother on a journey to England to help Archer's grandmother move. Gran is adamant that her old house is haunted, Archer is adamant that it isn't. Will Archer's skepticism lead to his peril, or is Gran amusing herself with a huge wind-up? Includes a selection of choice PiQue strips from the comic's 14-year run!
"An insightful, humorous and unique comic." — Lambda Literary Review
"A fun, clever story, somewhat akin to a drawing room comedy." — Panel Patter
"A nicely dialectical exposé in the shape of a comedy where opposites attract." — Gay Comics List
Politically InQueerect: Old Ghosts — 48 pages, $5.99, full color comic book.
My horrible little anti-valentines, as featured all over the place.

Who is this "Dylan Edwards" "person"? Enh? Perhaps this bio will reveal the answers you seek.
Conventions, art shows, readings: this is where you can find me (Dylan!) or my art in person.
In case you need to drop me a line.