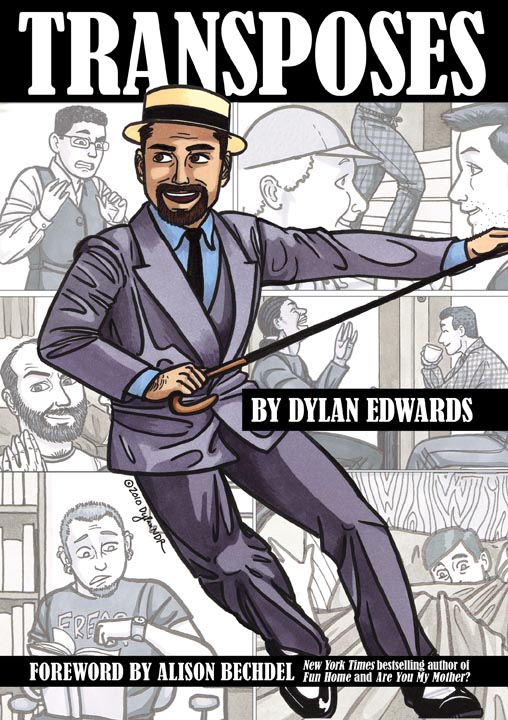 Looking for nonfiction comics about queer trans folks?
Transposes
features six fascinating true stories of transgender men and AFAB nonbinary folks who identify as queer. The result is laugh-out-loud funny, heartbreaking, challenging, inventive, and informative.
NOTE: Transposes is out of stock at the publisher. I have a very limited number of print copies available in my Gumroad store.
See what critics and readers are saying about Transposes
Author's Note: The stories in Transposes are based on interviews I conducted with several queer-identified trans masculine people. As much as possible, I have worked to preserve the voice of the individual by crafting the dialogue directly from their interview source material. Because the stories take place at different points in time, the language reflects terminology that was in contemporary use (for example, "FTM" instead of "trans masculine," "bio guy" instead of "cis man," etc.).
Includes a foreword by New York Times bestselling author Alison Bechdel (Fun Home).
115 pages, softcover. Published in 2012.
Recommended for ages 16+
Order signed copies through Dylan's Gumroad store
See more buying options from Northwest Press
Sample comics from the book:
Critical Acclaim:
Praise for
Transposes
From the foreword by Alison Bechdel — "Transposes will teach you something about what it means to have a body and to feel desire. About what it means, in short, to be human."
Review on Read About Comics by Greg McElhatton – "Speaking of Edwards' art, it's good. He draws his characters with great skill; no one comes across as a carbon copy of one another, and I love how Edwards gives many of them a certain raw sexuality. So often transpeople are depicted as almost androgynous, so reading comics where the transmen are given (as their lives demand or don't) the opportunity to be hot and masculine is a refreshing change. Edwards also pays attention to fashions, too; the looks of what everyone's wearing and how they style themselves in Adam's story, for example, instantly plunge the story into a very specific time period. A lot of care goes into making everything match; foregrounds, backgrounds, supporting cast, and protagonists. I don't feel like any shortcuts were taken here, and you end up with a quite handsome looking comic."
Review on High-Low by Rob Clough – "Edwards … cleverly arranges each narrative in a manner that reflects the subject. … [H]e did a fine job of turning interviews into stories that read well as stories, as opposed to polemics or simple dry biography."
Review on Lambda Literary by Cathy Camper – "A major step to breaking down closet doors is to provide venues for trans* people to see themselves. Edward's graphic novel does just that …. Edwards' black and white comics are open and inviting, making it easy for readers to get a quick overview of many different queer FTM lives. This accessibility also makes Transposes a good resource for gender workshops or other situations where it's helpful to easily compare different people's life stories."
Article on Sequential Tart by Katie Frank – "Transposes uses different presentations for each story — a staged speech, flashbacks, a museum exhibit — to take the reader through important moments in the interviewees' lives. This technique makes the stories both personal and relatable, and also highlights, in a lighthearted way, the weirdness of the exercise of interrogating people about the intimate details of their lives."
Review on Gay People's Chronicle by Anthony Glassman — "Simply put, this is probably some of the best work put out in the graphic novel universe about transgender issues. It is easy to see how someone would read this book, then come back and re-read it six months or a year later. It's warm, it's fun, it's… caring. And there's not enough of that in the world today."
Review on The Gay Comics List by François Peneaud — "There is a risk, in any biographical story, of making the reader feel like a voyeur. But Edwards made a wise decision: letting each of those men tell their own story by using a first-person narrative. Even though he states that he took a few fictional liberties and changed names to protect their privacy, that choice gives symbolic power to the person talking about their life."
Review on GayLeague.com by Joe Palmer — "In relating these struggles and accomplishments Transposes will be a source of hope, inspiration, and encouragement to any one questioning their gender. It is my humble opinion that cisgendered readers will be able to find motivation from these stories to live life on their own terms. As for me, I was drawn into each story, wincing at the slights and mistreatment, admiring everyone's characteristic determination, and cheering their triumphs."
Review by Andrew J. Peters — "The stories frankly address such topics as coming out in a lesbian relationship ('Adam'), male role models and gay identities ('Avery'), as well as STIs ('Blake') and recovery from childhood sexual abuse ('Aaron & James'). As such, I think Transposes is a trusty guidebook for young adults navigating the discovery of gender and sexual identity, and really for older adults too."
Review on Sequential Tart by Wolfen Moondaughter — "Having trans friends and seeing their struggles, I think this work is vitally important to opening eyes in the general populace, hopefully making people more aware, understanding and compassionate. And besides all that, the book is also a great collection of both biographical and slice-of-life stories, period."
Review on Sequential Tart by Patti Martinson — "A very good and revelatory compilation of the just how varied the gender-spectrum is and how wonderful it can be as well."
You wanna buy some comics or some of my other art? Well, dang, here's links to all my stuff for sale.
I do have some original comic art for sale. Some webcomics on here will have a little "Purchase" button under the title, which will take you to a PayPal checkout:
Or you can contact me and we'll figure it out.
QUICK LINKS:
Solo Comics for Sale
Anthologies
These are all anthologies in which I've had work published. I don't typically maintain a stock of these and can't guarantee availability of any of the titles. But if you're a completist, here are some leads! (I have reprinted some of these stories in my minicomics after the rights reverted.)