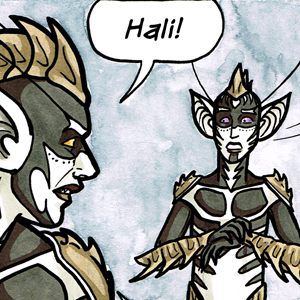 The conclusion to chapter 2 awaits you at these locations:
AND SO. Chapter 3 will begin on June 3 (or June 1 if you're a $1+ Patron). I'm excited for this, because it has taken every ounce of my willpower not to spoilerize the crap out of Chapter 3. It's Just Gonna Be Like That.
Next week will be your regularly-scheduled between-chapters worldbuilding extravaganza over at the VoSS website. So follow along over there if you're burning to know more about Daraz technology and social order.
And yes, I will be at Denver Comic Con this weekend, May 22-24, 2015!
You can find me at the Northwest Press booth, which I believe is #953.
I'll also be speaking on the Trans and Genderqueer Representation in Comics panel – Sunday 2:05 – 2:55 – Room 505.
SEE YOU THERE.
Cheers,
Dylan