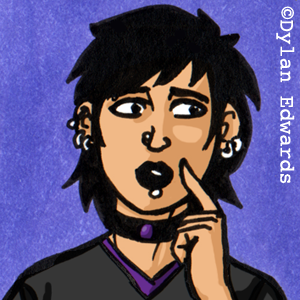 Gosh, so much stuff this week.
Let's begin with this week's Politically InQueerect offering on Tapastic, in which we buck the stereotype of the lesbian jock, and catch up with a few non-sporty Sapphics. This was originally an Outfield cartoon with a cameo from Dee, which I've recolored for this incarnation. I also had to change the text rather extensively to make it work in the context of an official PiQue comic. So even if you've read this particular Outfield cartoon before, you might want to give it a look.
Next up is the brand-new cartoon I made for the most recent issue of Rocksalt. Even if you read said issue you might have missed my cartoon, as it was cleverly disguised as an ad (THAT'S WHAT YOU GET FOR NOT READING THE ADS). Here it is all comic-sized and in sepia color.
This one posits what sort of beauty regimen a Skeksis might get up to (yes, Skeksis as in The Dark Crystal). I spent way too much time researching old-timey vanishing cream ads in the making of this one. Although, important point! This is actually intended as a modern ad done up in an old-timey style, as is the current trend with products marketed to hipsters.
Third piece of new art is this Welcome to Nightvale fan art I did. A recent episode had Cecil rattling off a list of horrible monstrosities, of which spider wolves were but one. I was instantly captivated by the concept of a spider wolf, and was unable to resist the urge to draw one. (Note: this has my Feeping Creatures watermark on it, coz I'm too lazy to make a separate image for studiondr.com. I expect you'll manage.)
Lastly but not leastly, SPX is upon us. I leave tomorrow! The show is this weekend, Sept. 14-15 in Bethesda, MD. Once again, I'll be tabling with Northwest Press. You can find us at K10. My pal Tony Breed made this awesome chart of LGBTQ comics and creators at SPX. Use it! I'll also be on the "Queering the Mainstream" panel on Sunday the 15th, from 3:30-4:30 PM. Please come watch us yammer on about things and stuff.
Is that everything? Jeebus, I hope so.
Cheers,
Dylan