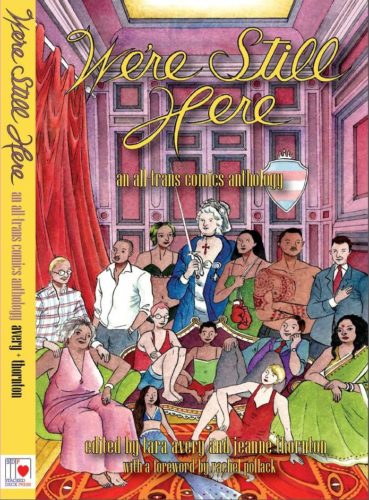 I'm excited to announce that We're Still Here, the all-trans comic anthology in which I have a short story, has been nominated for a Lambda Literary Award! If you haven't already snagged a copy of this book, you can do so from Stacked Deck Press.
I realize I'm biased and all, but this really is an excellent collection of comics offering a multitude of perspectives of the trans experience.
I also just got my comps of the Monster Journey anthology, featuring monster-themed stories by trans masc creators. This is not yet generally available, but I will have a very (VERY) small number available for sale at DiNK in April. I have a brand new Valley of the Silk Sky short story in here, of which $1+ Patrons have gotten some work-in-progress peeks. Soon you'll be able to read the whole darn thing!
Meanwhile, I just got the rights back to my short story, Ace Pilot, that was originally published in the Dark Horse anthology Secret Loves of Geeks. So my next webcomic serialization will be that story. Starting Monday, March 11, $1+ Patrons will get early access to the comic, and it'll go up for the general public on Thursdays.
Finally, I'm still working on coloring my Valley of the Silk Sky short story, "Medicine; Run," that was originally published in the Beyond Anthology. $1+ Patrons have been getting sneak peeks at that work in progress as well, natch. I'm about 75% done, so still on track to release it as a minicomic in time for DiNK. I'll also be running it as a webcomic once Ace Pilot wraps up.
In other words, lots of comics coming your way!